Are Women and Men Different?
Women and men are different when viewed from the perspective of a plastic surgeon! Such a profound statement seems obvious and addresses but a few of the physical and psychological differences between the sexes. Women, during a consultation for cosmetic procedures, are more directed and discerning about which part or parts of their face they wish to have rejuvenated; men are often less so.
Nevertheless, it is up to the plastic surgeon to understand the unspoken needs of the individual and the various nuances in skin tone, texture and the underlying structure that differentiate the two, so as to not masculine a female or feminize a male. Likewise, the underlying psychological concerns need to be uncovered. That is of course, if the plastic surgeon wishes to have a happy patient who is more than pleased with their appearance, as I do.
Commencing with the basics, one sees the female skin, bone structure and amount of underlying tissues to have a greater delicacy than their counterparts.  With calcium loss over years, the facial skeleton becomes thinner in the lower face, jaw and mouth.  Keeping up with your calcium assists in preventing some of these alterations.
A female's thinner skin allows for more loss of collagen, enhanced damage from sun exposure, (during a lifetime), and a proportionally greater loss of elasticity than in the male.  However, the male's heavier tissues hang and sag to a greater degree and require increasingly larger amounts of filler products: Radiesse, Voluma, Sculptra and Juvederm, to counter volume loss in their faces.
More profound wrinkles about the forehead are male-owned traits and typically respond to Botox, or a surgical browlift which softens and smooths these furrows, in a different manner than the more delicate wrinkles of their mates.  When the outer brows descend, yielding a tired or grumpy appearance, they usually settle lower in the testosterone-based mammals. The plastic surgeon must be aware of the structural variances between women and men and plan surgery accordingly. Likewise, a rejuvenating facelift in female is approached differently than her counterpart.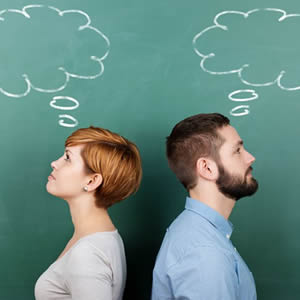 Is there a bottom line to all of this?  As a plastic surgeon, not only must I appreciate the subtle alterations that all humans undergo during their lives, in order to correct, lift and rejuvenate these areas in a naturally appearing way, but I need to acknowledge and understand the physical variations that exist between the sexes.  This is where the true art of plastic surgery comes into play.  Choosing from an array of products that are ideal for each patient, recognizing the structural alterations that require attention, and having the creativity to accomplish these goals is what differentiates and creates a naturally looking and refreshed face from another less so.
Are the sexes different?  We all can conjure up examples of similarities and differences that characterize our heterogeneous population. Overall, goodness, compassion, kindness and morality should be common traits to all humankind.  But when it comes down to many of our physical characteristics, females should look like females and males like males.
Jeffrey S. Rosenthal, M.D.